Posted on
By The Bra Bar & Panterie
Posted in Sports Bra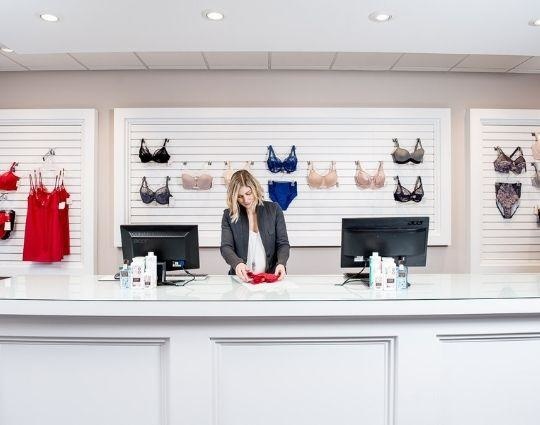 You wouldn't exercise without wearing sneakers for your feet—so why go running without a sports bra?
One of the brands we carry at The BraBar (Shock Absorber) found that 44% of women exercise without wearing a sports bra. This means that almost half of active women are missing out on the benefits of sports bras! Many don't realize what a difference they can make. 
All things considered, you shouldn't work out without a sports bra. Here's why:
Sports Bras Can Prevent Stretching & Sagging
Sports bras do more than make your exercise routine a little more manageable—they can also prevent changes to the shape of your breasts.
Breasts are made up of Cooper's ligaments, which are a bit different than muscles. During high-impact activities like running, the movement of your breasts may cause extensive straining on the tissues and ligaments of your chest. Once these delicate ligaments are stretched, they don't shrink back. 
As we age, gravity pulls our breasts downward. Other contributing factors include the size of your breasts, pregnancy, breastfeeding, and the elasticity of your skin. 
These effects can be minimized with a sports bra that keeps things in place and supported, particularly during physical activities. High-support sports bras can reduce breast movement by up to 74%. 
Sports bras are designed for all women, whether you require a smaller or larger size. Even if you have smaller breasts, you'd be surprised how much they still move during exercise. To see a visualization, check out the Bounce-O-Meter. This illustrates how sports bras can support all body types during moderate to high-impact activities.
If you're concerned about premature sagging, you can wear sports bras even when you aren't working out. They're great for household chores, lounging around, or for wearing under a regular t-shirt. Minimize the strain on your breasts with a sports bra.
Reduce Discomfort & Pain During Exercise
A bra that doesn't fit feels strenuous enough during a typical day—during exercise, this discomfort is only intensified. When you wear a quality sports bra that's designed to fit your body, you won't want to take it off!
Those who exercise regularly know the familiar aches and pains that you feel after an intense workout. But you shouldn't feel that soreness in your breasts. 
Without the proper support, your breasts may get in the way of your routine, and end up feeling tender or uncomfortable afterward. As you sweat, fabric from a low-quality bra may cause skin irritation, rashes, and chafing. 
Make your exercise more enjoyable (and less painful) with a supportive sports bra, which combines comfort with control. The moisture-wicking fabric of a sports bra allows your skin to breathe, even in high temperatures.
They're Fashionable!
Maybe you've held off from buying a sports bra because you don't like how they look.
On our website, we offer a wide selection of sports bras by popular brands like Elomi, Anita, PrimaDonna, and Shock Absorber. Choose a classic black colour that blends in, or mix things up with an eye-catching print.
You'll feel stylish, sleek, and supported in a sports bra with a trendy pattern.
Say goodbye to breast bounce during your workouts—with a sports bra, you can focus on exercising your body rather than keeping your chest under control!
Looking for a sports bra with the perfect fit? At The BraBar, we offer personalized bra fittings in Winnipeg. Get in touch with us today to schedule your next visit! We also offer swimwear in Winnipeg.