Have you ever looked at a celebrity on the red carpet and wondered how they were able to pull off that extremely low-cut outfit? It's time to pull back the covers of Hollywood's glitz and glamour and talk about the best kept celebrity fashion secret, Booby Tape!
Australian sisters, Brianca and Bridgett Roccisano are the founders of Booby Tape. They launched their brand in 2018 after noticing that the market lacked a product that could create the effect of a breast lift without the support of a bra.
Before Booby Tape was launched the founders and many other women were going to hardware stores to buy masking tape or duct tape and using it to sculp their breast for a seamless and lifted look underneath a backless, plunging, or off-shoulder outfit. The issue with using hardware tape is that it can lead to skin being ripped off during the removal process.
Booby Tape is designed to be friendly on skin because it's made from a combination of cotton and nylon with an acrylic adhesive. It is meant to come off easily if you peel your tape off carefully. However, if you are still worried about causing skin irritation, soak your tape with Booby Tape Remover or soapy water for a smoother removal.
The brand is now globally known for their Booby Tape and other products related to breast care needs. The Roccisano sisters were awarded Australian Young Entrepreneur of the Year in 2020 and many celebrities like Lizzo, Doja Cat, and Sofia Richie have been spotted in Booby Tape. The company has also been featured in a variety of magazines such as Forbes, Vogue, Paper, and Cosmopolitan.
How to prepare your skin for Booby Tape
Booby Tape comes in a 5-metre-long roll that you can cut and customize to your unique shape. Before using the tape, the brand recommends that people apply a small piece on the breast area and leave it on for 24 hours before slowly peeling it off. This patch test is to ensure that you have no sensitivity or allergies to the tape or the adhesive.
When you know that your body will not experience irritation or redness from the product, you can safely begin using Booby Tape.
Always apply the tape to clean, dry skin. Avoid moisturizers and oils before use and never apply over sunburned skin. It is important to remember to not stretch the tape but to position your body in the desired position before application.
Common ways to wear Booby Tape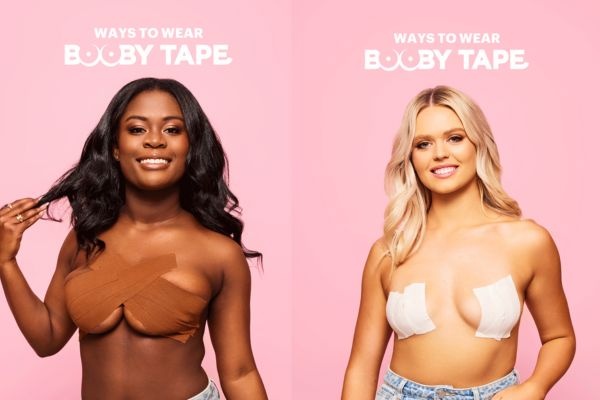 For backless or off-shoulder outfits the criss-crossed and over the nipple method will give the best results. The amount of Booby Tape required to give you the best support and lift will depend on your breast size, so the larger your breast the more likely you'll require more tape. On average a roll of Booby Tape can last anywhere from 5 to 15 applications. Try not to remove the tape once it touches the skin as it can lose some of its adhesion.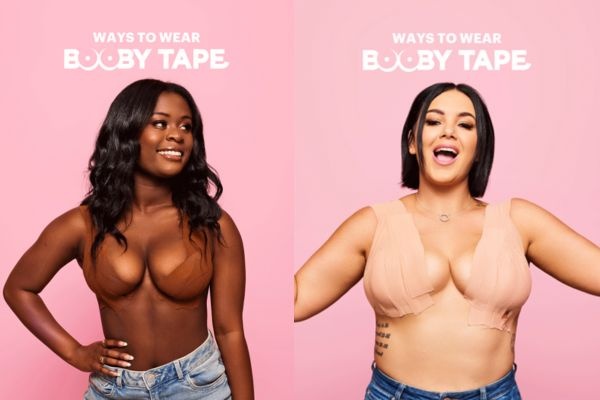 For low-cut, plunging outfits apply the tape from underneath your bust to over your shoulders to help you achieve your desired cleavage look.
It is recommended that you only use Booby Tape for a maximum of 6 hours otherwise the adhesive may become stickier. Another tip is to pair your Booby Tape with nipple covers for a more comfortable removal process.
So, whether you're a celebrity getting ready for your photo-op, a bride preparing for her special day, or a person who just wants to go braless while feeling supported, Booby Tape is ready to provide you with lift you need.
At The BraBar & Panterie, we carry Booby Tape in a variety of shades. Booby Tape is strong enough to support the heaviest of breasts, so add a roll to your cart today!