Posted on
By The Brabar & Panterie
Posted in Bras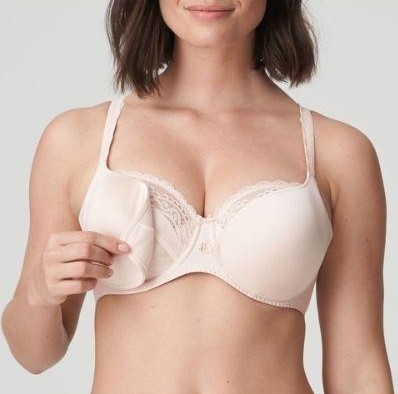 As your pregnancy progresses, you may notice that your bras don't fit the way they used to. Almost overnight, your shoulder straps start digging into your skin, and the bra cups feel tight around your breasts
What many women don't expect is that their breasts begin to change shortly after they conceive. These changes continue throughout the pregnancy and after they give birth. 
Why do your breasts change in size during pregnancy? It has to do with the fluctuating hormones in your body as you prepare to breastfeed. We're going to look at how your breasts change before and after you give birth, from early pregnancy to nursing:
The First Trimester
Even during the early weeks of your pregnancy, your body begins to change. It's not uncommon for breast changes to begin soon after you discover you're pregnant; swollen and tender breasts are often one of the earliest signs of pregnancy. 
It's partially due to the increased production of cortisol, a stress hormone. The levels of cortisol can increase by 2-4 times during pregnancy, which can lead to swelling and weight gain. This may cause your breast tissue to feel tender and inflamed. 
As time passes, these breast changes will become more pronounced. You'll notice the veins near your breast become more visible. Your nipples will change, too; the areolas may become darker, larger, and more sensitive.
If your bras are becoming uncomfortable at this point, we recommend getting refit for a bra that leaves you with room to grow—at this stage, the changes are just starting.
The Second Trimester
This stage is when the milk-producing cells in your breasts start to develop. You may find it necessary to have another bra fitting at this point. It's important that an underwire bra fits properly as ill fitting underwire bras could restrict your milk ducts and cause breast pain. Some women choose a non-wire bra at this stage for comfort and ease of fit with changing breasts. 
Your body will start producing more progesterone and estrogen, which increases the fatty tissue near your breasts. The changes you noticed during the first trimester may become more pronounced, such as the darkening of the areolas and veins. It's also common to develop stretch marks around this time.
You may notice small bumps near the nipples, which are called Montgomery's tubercles. They secrete an oily fluid that helps protect your skin and keep it moisturized. 
The Third Trimester
As your body starts preparing to give birth, your breasts may begin to produce colostrum (one of the first forms of breastmilk). Colostrum contains immune-boosting nutrients that protect a newborn against harmful germs. 
But since your body starts preparing this milk before you give birth, you may notice that your breasts leak fluid that stains your bras. Nursing pads can be used at this stage to prevent leakage. As your breasts become heavier, you may even find it more comfortable to wear a bra while you sleep. Bravado's original nursing bra is a comfortable choice for sleeping and is a great nursing bra for your hospital bag.
Nursing
After your baby is born, you might think that you're done changing cup sizes. But as you start breastfeeding, your breasts will continue to change. 
A few days after you give birth, your breasts will produce breast milk instead of colostrum. As your milk supply increases, so will the size and shape of your breasts. The milk ducts in your breasts will fully develop by this point. If you notice that your breasts feel uncomfortably full, try breastfeeding more often or using a milk pump. 
A nursing bra makes breastfeeding more convenient for new moms. With the Royce Luna Nursing Bra, you can use the drop-down nursing clasps for easy access. It's designed with a wireless construction for comfort and support. 
Taking Care of Your Breasts
Given how rapidly your breasts change during pregnancy, it can be a difficult adjustment for a mom-to-be. To ease your discomfort, we've gathered a few tips for taking care of your breasts:
Apply a soothing moisturizer

. It may not be possible to prevent stretch marks completely, but you can help ease the itchiness and dryness with moisturizer. Apply a soothing, rich moisturizer or oil on your breasts if you notice any skin discomfort. You can do this once or twice a day. 

Clean yourself with a soft cloth and water

. Colostrum is a sticky, yellow-coloured substance. If you're wiping it off your breasts, avoid using anything abrasive or strongly-scented; all you need is warm water and a soft washcloth.

Buy a nursing bra early

on.

Most women think that maternity bras are only for those who have already given birth. But these garments can reduce your discomfort

during

pregnancy. They're designed to stretch as your shape changes. With moisture-wicking fabric, any breast milk that leaks will dry quickly. 
Shop Our Selection of Nursing and Maternity Bras
Pregnancy and breastfeeding have a significant impact on your breast size, which is why many women find that a regular bra isn't comfortable during pregnancy. 
Since you experience breast changes throughout pregnancy, you need a bra that changes with you. At The BraBar, our selection of Canada bras includes nursing bras, maternity bras, and nursing tanks. Shop online, or visit one of our retail locations in Winnipeg today.