Posted on
By The BraBar & Panterie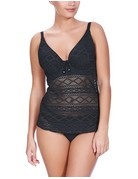 Time to buy a new swimsuit? It seems like every year, you go through the same cycle: Your old bathing suit doesn't fit, so you look for a new one. But it's hard to find one that fits just right.
Maybe the cups aren't supportive enough; maybe the straps aren't adjustable. Either way, it's not the perfect swimsuit.
You need a bathing suit that makes you feel confident and comfortable; otherwise, you'll dread your next beach day. With so many swimsuit styles to choose from, how do you know which to pick? 
Plunge into swimsuit season with confidence with this bathing suit shopping guide:
Finding the Right Fit
So, how should your swimsuit fit? Here's what to look for in each piece of your bathing suit: 
Bikini Tops
How hard can it be to find a bikini top?
For women with larger busts, bathing suit tops can be tricky. Sometimes, they dig into your skin or create an unflattering shape. Your main issues are getting the proper support and finding a bathing suit that fits without cutting into your bust. 
Tired of flimsy bikini tops that don't fit? You can think of a swimsuit top as another type of bra, and apply the same principles you use to shop for bras to find a swimsuit top. 
Bustier women should look for bikini tops that are cup-sized rather than the generic small, medium, large, or XL. Instead, go to a specialty store to get fit for a swimsuit. Visit The BraBar, and we'll help you out. 
A few qualities to look for in a bikini top include:
Lined cups

. High-quality cups will offer lift and support without changing shape in the water. You can also look for moulded cups.

Underwire

. Get extra lift with an underwire. One thing to note is that an underwire should never poke or dig into your skin; it should sit comfortably against your body and wrap around your breasts. 

Adjustable straps

. Your swimsuit straps are important; they help support the weight of your breasts. An adjustable strap allows you to adjust the tension for your body so you can be comfortable all day long. 

The band

should fit snug but still feel comfortable. If the top has a tie-up or clasp instead of hooks, make sure it fits securely even as the knot loosens up. Take a look at your back in the mirror. Where does the band sit? Both the

back

and

front

of the band should sit in the same place: Just below the breasts. If the band keeps hiking up, you may need to loosen the straps or tighten up the band. 

High-quality fabric

. A well-made swimsuit minimizes stretch or sag when wet. Look for tops made of nylon/polyamide, elastane, and polyester.
Bottoms
With any bikini bottom, you're looking for a few things:
A waist that doesn't slip 
A high-quality bottom will feature a fully lined crotch area for total protection. In addition, it should have an elastic waistband that fits comfortably around your hips. Look for garments made of nylon and elastane for a snug and flexible fit. 
One-Piece Bathing Suit
With a two-piece swimsuit, you can always buy tops and bottoms that are different sizes. But that isn't the case with a one-piece; you need one that fits all over.
Shopping for a one-piece? Most importantly, look for a one-piece with the right fit. Larger-busted women can look for cup-sized swimsuits or ones designed for full busts. You want a top half with lined cups or an underwire to give support. Look for bottoms with crotch and rear coverage, along with flexible fabric.  
If your waist is a different size than your shoulders, you might have trouble finding a one-piece swimsuit that fits just right. Instead, consider buying a tankini top; this offers tummy coverage while giving you flexibility with sizing. 
How To Find the Right Swimsuit Style for Your Body Shape
How do you find the right style for your body? No two bodies are the same, and that's why the right swimsuit is different for everyone. 
We've got a few tips for finding the perfect swimsuit for your unique shape:
Try on several different styles to see what you like best

. This is where in-person shopping beats online shopping. You can browse through swimsuits in a store, try a few on, and see what you like best.

Get the right fit

. If you have a large bust, look for cup-sized swimwear. Your bikini top should fit similarly to how your bra does. Look for a bikini top with lined cups and a supportive underwire. 

Wear what makes you feel confident

. If you don't feel ready to show off your tummy, no problem; choose high-waisted bottoms! And if you'd like to cover your upper thighs, you can choose swim shorts or even a swim skirt.

Find a professional fitter.

At The BraBar, our expert personal fitters help you find the perfect bathing suit to make you feel confident. 
Taking Care of Your Swimsuit
Once you find the perfect beach outfit, you want it to last as long as possible. Finding the perfect one takes time and taking proper care of it, will allow you to enjoy it longer.
We recommend hand washing your swimsuit. This will be gentler on the fabric and underwires. Be sure to use a gentle detergent designed for swimwear. If you decide to machine wash, choose a gentle cycle, place it in a lingerie/bra bag, and use cold water. 
After that, don't use the dryer! The high heat will break down the fabric. Hang your swimsuit to dry instead.
Shop Our Selection of Bathing Suits Today!
With these tips in mind, we hope you can find a bathing suit that fits perfectly. Discover the empowerment and confidence that a well-fitting swimsuit offers.
At The BraBar, we carry a wide selection of high-quality swimwear in Winnipeg. Need help finding the perfect fit? Our personal fitters will be glad to assist you. Visit The BraBar today!