Posted on
By The BraBar & Panterie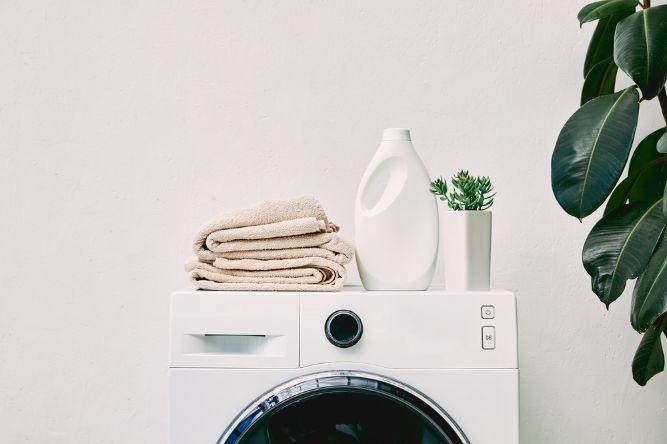 Lace lingerie is undeniably elegant; it looks sensual and feels so soft against your skin. But have you ever bought gorgeous lace lingerie, only to take it home and realize you aren't sure how to wash it?
In our last blog, we covered how to wash your bra. Now, we're diving into how to clean other delicate garments, including lacy underwear, high-waisted shapewear, and silk pyjamas. 
If you want your delicate fabrics to last, you need to be extra careful when washing and drying them. While hand washing takes more effort than using a laundry machine, it's worth it! You'll prolong the lifespan of your favourite lingerie pieces.
We're going to cover how to wash each type of lingerie in your drawer. Here's how to take care of your most delicate fabrics:
Washing Panties
Bikinis. Thongs. Briefs. Panties come in all shapes and sizes. Many of them feature lace designs and delicate detailing—features that can easily get wrecked by machine washing. That's why when you wash your panties, it's best to do so by hand. 
We recommend looking at the manufacturer's tag on your panties. Certain brands may specify which types of detergent or washing methods are best, and following the washing suggestions is always a good idea.
With that out of the way, here's how to wash your underwear to ensure it lasts for years:
Pre-treat stains
It always seems to happen when you wear your best lingerie—you get your period unexpectedly, and you're left with an unsightly stain. How can you get rid of it?
Before you start hand washing your panties, rub a small amount of gentle laundry detergent directly on the stain. If you have a soft-bristled brush, you can use that on the cotton gusset—but be careful not to scrub too hard, or you could damage the fabric. 
Let the detergent sit for several minutes so it has time to break down the stain. From there, wash your panties using the following steps:
Cold water soak
Soaking your panties helps get rid of stains (especially if you pre-treated them). You can use cold or lukewarm water, but don't use anything hotter. Submerge your panties in a sink or large basin full of water for at least 5 minutes.
Applying detergent
Add a bit of mild detergent to the water. Then, swirl your panties around the water, working up a light lather. You can use your fingers to massage in the detergent, but be very careful with lace or decorative pieces (bows, flowers, etc.). 
Leave it to soak for another 5 minutes. After that, drain the skin or basin, and rinse the garment several times under cold water until you see the water run clear. Use minimal tap pressure to avoid damaging the fabric.
Drying time
Ideally, you should hang your panties for the fastest drying time. But if you share your home with others, that may not be an option.
Don't want other people to see your panties as they air dry? Try to find a spot in your room where you can dry them away from other eyes! 
Resist the urge to wring them dry, or you might tear the lace. Instead, just lay the panties flat on a towel. Pat them with a towel to absorb excess moisture and speed up the drying process. 
Washing Shapewear
At The BraBar, most of our shapewear is made using a blend of polyamide, elastane, and cotton. Due to the elasticity of the fabric, shapewear needs some extra TLC when you wash it. 
Pay extra attention to the temperature of the water. Anything too hot will cause the fabric to stretch out, and your shapewear won't fit as snuggly. Never use bleach on shapewear, even if it's stained—this harsh chemical will damage the elasticity of your shapewear.
Depending on the occasion, you might reach for light or dark-coloured shapewear. We recommend separating lights and darks when you hand wash to prevent any staining. 
Washing Sleep & Loungewear
Is there anything better than slipping into ultra-soft sleepwear? It's the perfect way to get ready for a cozy evening or a deep sleep. Keep your pyjamas, chemises, and robes feeling extra soft using the same washing routine we described above for your panties. Since pyjamas are larger than most underwear, you'll need a bigger water basin to wash them. Consider using your bathtub for washing robes and chemises.
Why You Should Avoid Machine Washing
Agitation, heat, and bleeding colours—there are so many reasons why using a washing machine is bad for delicate fabrics. It's no problem for your sturdier, everyday clothes, but for your lingerie, you need to hand wash instead. 
If you're short on time and need to use the machine, be sure to put your panties, pyjamas, and/or shapewear in a mesh lingerie bag first. Select a delicate cycle and use cool water. After that, hang or place your lingerie on a towel to dry.
Shop Our Selection of Lingerie Today
There you have it: A complete guide to washing all your shapewear, panties, and favourite pyjamas. Now that you know how to wash lingerie, you might be thinking of buying a few new pieces for your collection.
At the BraBar, we offer an extensive line of lingerie products that will reignite your confidence. Browse our panties from top-quality brands, including Hanky Panky, Freya, and PrimaDonna. Visit our bra store in Canada today!