Posted on
By The BraBar & Panterie
Posted in Bras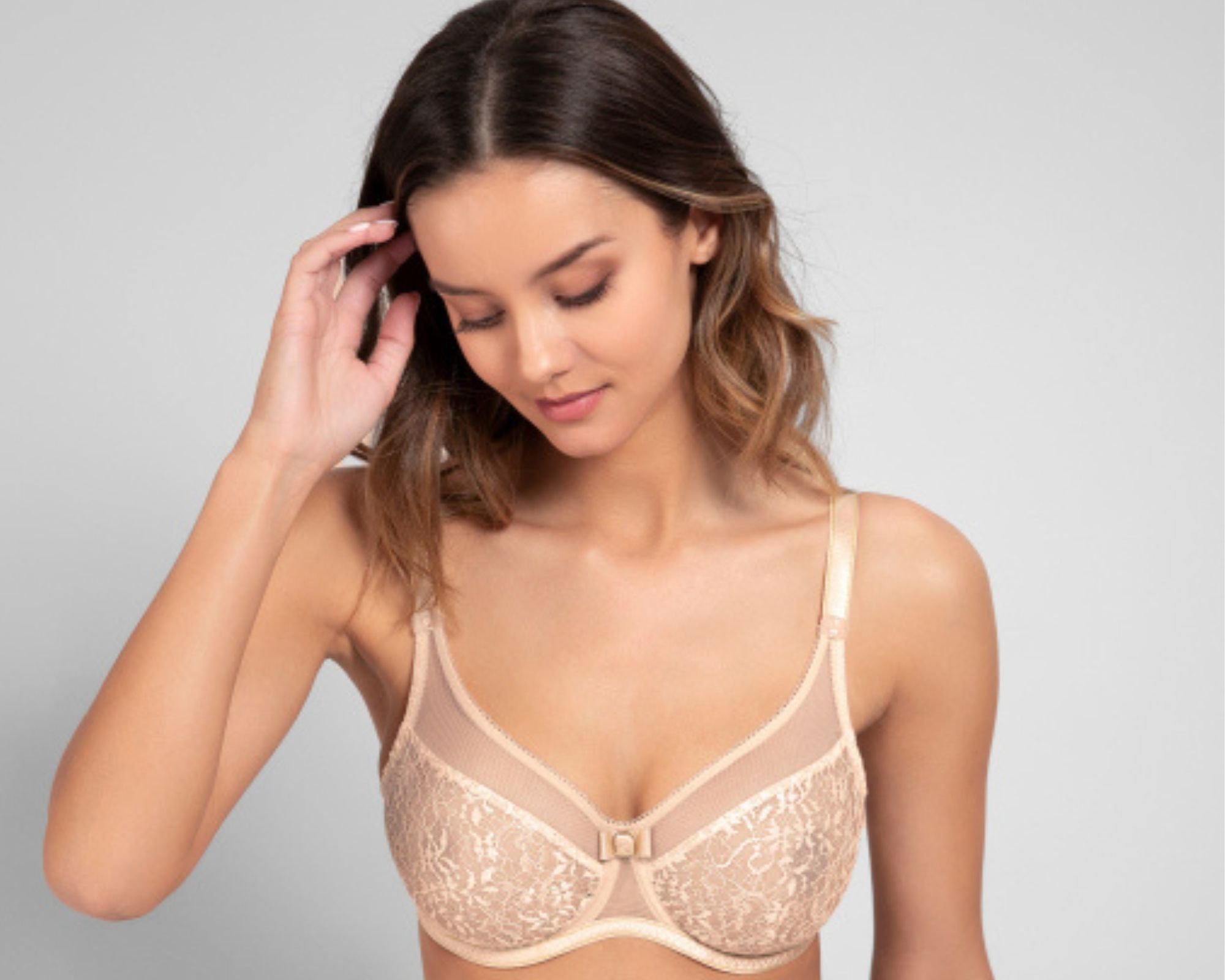 Empreinte's Allure bra is created with Leavers lace, one of the most intricate types of lace rarely constructed as Leaver loom machines are slowly heading into extinction. Discover the history behind Leavers lace and how its made.
Empreinte's Allure bra is created with Leavers lace, one of the most intricate types of lace rarely constructed as Leaver loom machines are slowly heading into extinction.
Empreinte is a French brand we carry that creates high-end lingerie and swimwear. Since 1946, Empreinte has combined unique support and French elegance to create products sourced with high standards. They are committed to making a positive impact on the economic, social, and environmental ecosystem by following an approach that ensures sustainable development in each of their procedure levels (i.e., supply, production, and transmission).
One of Empreinte's newest products to hit our shelves is the Allure bra. This product is a seamless and invisible underwired bra that offers great support. The elegance of the luxurious Leavers lace provides a classic yet modern look.
How Leavers lace is made
On a loom that is over 100 years old and six metres long, thousands of individual threads are woven together to create one of the most intricate fabrics in the world – Leavers lace.
Leaver looms are attributed to John Levers, who in the early 1800s adapted a pre-existing machine by John Heathcoat that led to the creation of this rare and expensive loom machinery. Later, the letter "a" was added to help with pronunciation in France.
These looms were made to match the quality of handmade lace. The first step begins with the drafter drawing the lace design on paper before it is transferred on to punch cards by the technical drafter.
Then the punch cards are fed into the loom machine to complete each pattern which sounds simple but couldn't be further from the truth as this process requires more guidance from a group of specific workers. A new design can take up to three months to produce.
The lacemaker is responsible for setting up and ensuring that every piece of thread is correctly in position. A winder will place each thread on a bobbin where it is placed into a carriage to check the weight and tension of each strand to be weaved. An inspector's task is to look for the smallest defect as each design is created line by line. And the loom experts known as tullists oversee this whole operation to ensure that each design made by the drafter is being created on the loom.
The final steps are for a lace mender to hand sew any errors that might've been missed before an in-house designer adds the finishing touches to the pieces.
Depending on the materials over one square metre can cost over five hundred dollars and on average it takes 20 people to produce Leavers lace.
As you can imagine, this assembly process requires a lot of patience and precision as one thread tear can set back production.
Why is Leavers lace so expensive?
It's hard to find lace makers to continue the trade as these looms are essential to making Leavers lace. Only a few hundred machines are left today as they are no longer produced since the cost to manufacture the machines outweighs the cost of the product. This means companies need to maintain the loom they do have to continue making this complex lace.
At first glance, many people can't tell the difference between today's mass-produced lace vs. Leavers lace. As mass-produced lace is cheaper, Leavers lace allows designers to create more complex and detailed designs, whereas cheaper lace is often embroidered designed sewn onto fabric with limited design possibilities.
Both types of laces are valid, but what makes Leavers lace exclusive and amazing is the production can't be automated. The challenging work of each of the Leavers lace assembly team ensures that you have a product made with the highest quality and care.
So, when you purchase our Empreinte Allure bra, you aren't just purchasing a product for its great support, but for its remarkable work of art which helps to preserve a little bit of French history.