Posted on
By The Bra Bar & Panterie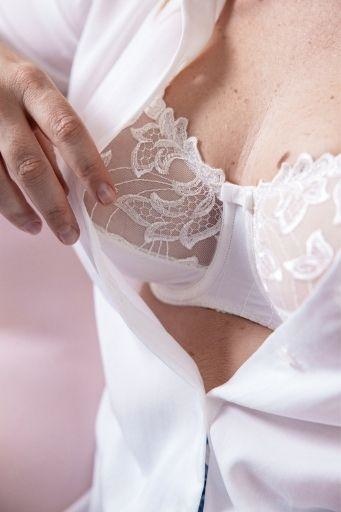 Since you wear a bra almost every day, you'll want to find one that fits your figure, supports your shape, and lasts as long as possible. Buying a high-quality bra is an investment in your comfort. 
We all know how tough it can be to find the right bra, especially when you aren't sure what to look for. If you're shopping for a new, full-coverage bra, we've got you covered. We're going to share the qualities you should look for in a bra to support a fuller bust. 
Attributes To Look For
You're looking for a great everyday bra that provides full support and maximum comfort, but what attributes should you look for?
We're here to help you find that ideal bra to wear that won't cause discomfort throughout the day; one that supports your figure, provides full-coverage, and looks great. 
Shaping & Support
If you've never worn a bra with side panels before, it's definitely worth trying out. A side panel in the cup will help create a more forward shape, while simultaneously minimizing the width of your bust. The result is a flattering, natural shape that still feels comfortable.
If you're looking for a bit more lift and shaping, make sure to pick up a bra with an underwire. Wired bras provide more support than non-wire options. 
Since most of a bra's support is provided by the band, look for a band that is wider along the side. A wider band will also reduce the appearance of a back bulge. It doesn't need to be a set amount of hooks wide; many bras taper down to 2-3 hooks wide at the center of the back. 


Fabric & Fit
For those with a fuller bust, you might like a full coverage bra with a high centre gore (which is the centre of a bra that sits between the two cups). This will create a flattering shape and prevent the dreaded double boob.
The bra cups should be constructed of a material that is firm and does not stretch too much. Look at the construction of the cup; generally speaking, the more seams a bra has, the more support it will offer. Ditch the molded, padded, and seamless bras as a structured cut and sewn bra will provide more lift and shaping.
Firm Straps
In a proper fitting bra straps are only responsible for 15%-20% of the bra's support, but they're still important to achieve maximum support and comfort. The straps themselves should be made of a firm elastic, rather than a material that's stretchy and flexible.
Our Recommendations 
At our bra store in Canada, we offer a wide selection of high-quality bras that provide support, comfort, and longevity. A few bras that we recommend include:
We offer all of these bras and more at our boutiques. Shop online or visit one of our retail locations today!
If you're having trouble finding the right bra, we also offer a personalized bra fitting service. We'll help you find pieces that you'll feel confident wearing. Contact The BraBar to learn more.